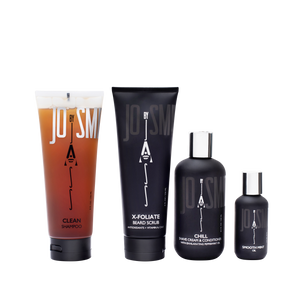 This four-piece holiday gift set is the perfect gift for a remarkable man in your life, made from all-natural ingredients with essential nutrients and oils. Each element treats hair on the beard, face, and head to maximize hair health and reduce ingrown hairs and shaving bumps.
Jo Smith Clean Shampoo is deep cleaning and invigorating to the senses. The sensuous aroma and thick lather regenerate hair strength and add volume. Paraben-Free.
Jo Smith Chill Shave Cream and Conditioner is loaded with many healthy skin and hair nutrients. The 'chill' comes from peppermint oil which soothes and cools the scalp. Paraben-Free.
Jo Smith X-Foliate beard scrub prepares the beard for the closest and cleanest shave. The hair on the beard is lifted by fine exfoliating granules, which reduce the onset of ingrown hairs. Leaves skin feeling smooth and rejuvenated. Paraben-Free.
Jo Smith, Smooth Mint oil is all-natural. This perfect compound gives your Beard maximum hydration and leaves it soft and polished, without the greasy buildup. Paraben-Free.