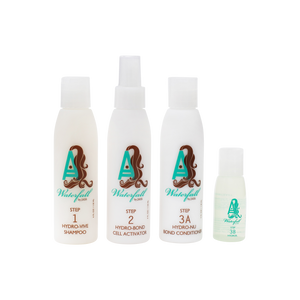 This complete mini holiday gift set can be used on the hair, facial hair, and beard to achieve optimal hair health. The HYDRO-NU Waterfall strengthening system is packed with exotic essential nutrients, Oleic acid, and vitamin E for maximum moisture delivery. The Waterfall system replenishes and rebuilds dry and damaged hair. The four-piece holiday gift set includes everything needed to  complete 4 steps to healthier hair. Paraben-Free
Step 1- Hydro-Vive shampoo to thoroughly cleanse the hair or beard of all impurities, dirt, and product buildup. 
Step 2- HYDRO-BOND cell activator breaks down hydrogen bonds and activates the cells using the infusion of Chia Seed and Henna extracts to transform dry, brittle hair. The cuticle begins the change process with this nourishing blend of extracts to recover maximum moisture. This dominating, advanced cell activator adds shine, detangles, and makes hair more manageable. Hydro Bond is formulated to help resist breakage and promote healthy hair growth.
Step 3A- HYDRO-NU conditioner has built-in exotic essential nutrients and vitamin E to bolster healthy hair, making detangling the hair a breeze. The natural formula packs vitamins into each hair cuticle and shaft to keep it protected and hydrated.
Step 3B- HYDROIL is chock full of natural nutrients and ingredients worldwide. Hair remains luscious and retains its shine, including on hot and humid days. The proprietary HYDROIL formula harbors protection from everyday heat damage caused by styling tools and equipment. It can be used on wet or dry hair.